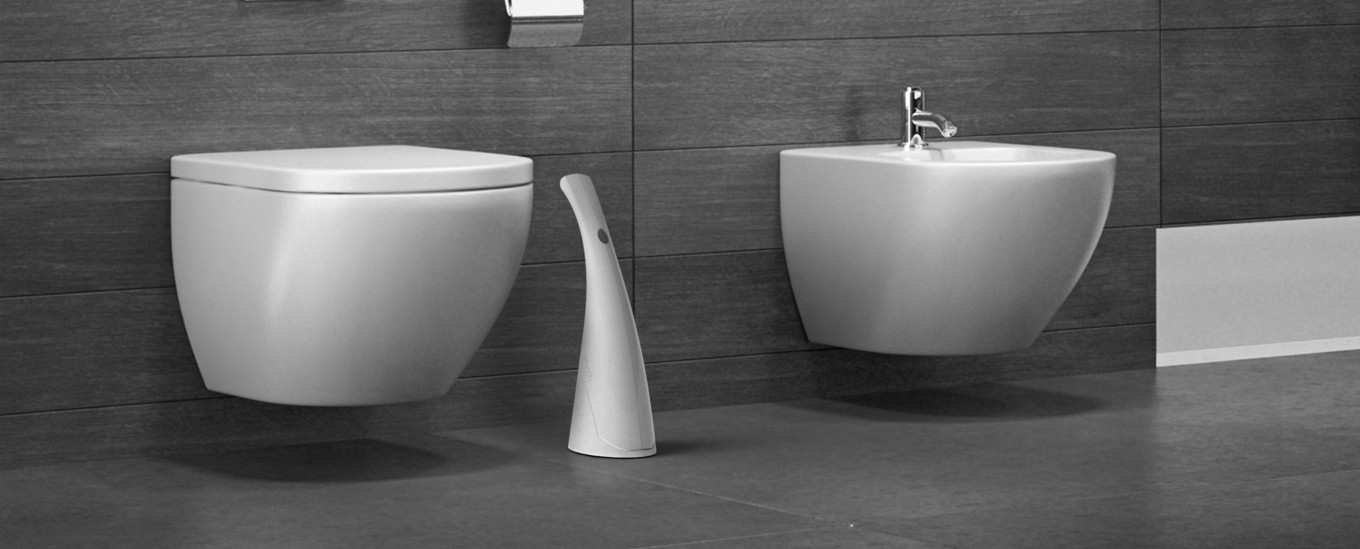 For 100 years we've cleaned the toilet with a brush. Isn't it time for a change?
The Loogun is different
A device so hygienic your toddler can play with it. Beautifully designed to suit any bathroom, the Loogun is a hand-held motorised device that sprays a powerful jet of water into the toilet to clean stubborn marks off submerged surfaces with ease. It never touches the toilet so the device stays beautifully hygienic and pleasant to use.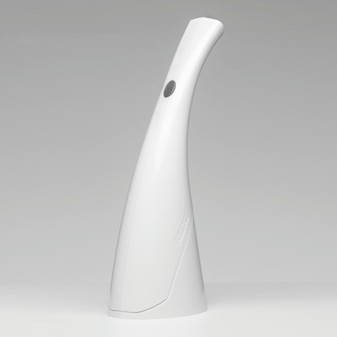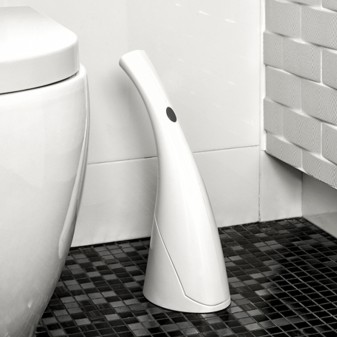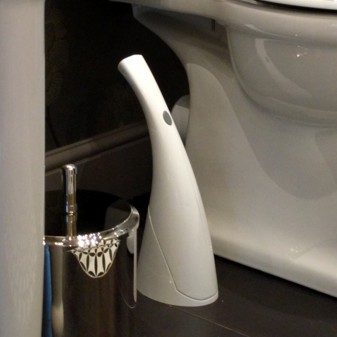 A better, cleaner bathroom
Our multi patent pending design cleans above and below the waterline in a toilet using a splash-free jet of water. The Loogun replaces the daily cleaning of stubborn marks, making daily toilet cleaning a pleasant experience while keeping the bathroom beautifully hygienic.
For the first time in nearly a century, you'll never have to keep a filthy brush in your bathroom or cringe when having to use it.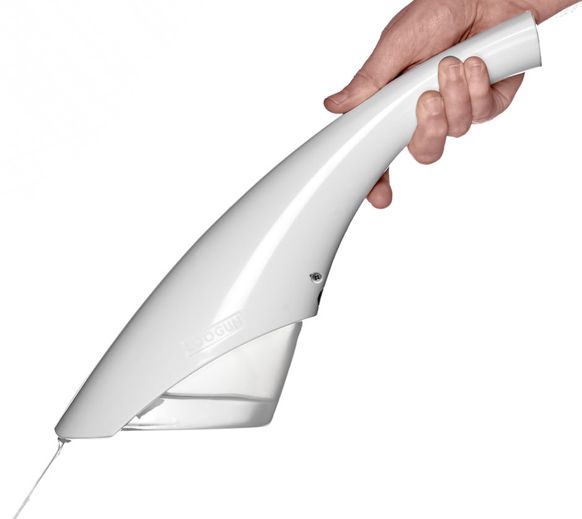 No hands in the toilet
What a brilliant idea! Clean toilet, clean hands so this wins hands down every time. Well worth the anticipation; the loogun is one of those things you wonder how you managed without.

A Great Solution, Elegantly Designed
A good product that really does deal with sticky poo on loos hygienically. Can be used to deal with kids' pottys and commode pots. I use Loogun everyday and I love it!

Excellent product
The Loogun is great. Looks good and works well. It is hard to believe that it can totally replace a brush but for me it has. Jet works well through water. Was a bit louder than I expected but that is ok for the fact that it works well. Easy to refill too. You have to use good batteries, I got some top of the line Duracell rechargeable, expensive but work perfectly.

The 21st century toilet brush
I have, for many years disliked the existence of the toilet brush. They are never clean and always slightly in the wrong place!! Bring on the loogun. Clean and effective in keeping the toilet clean and easy to maintain. We no longer need to throw chemicals down the toilet or have a manky storage pot stood next to the toilet. Best way of keeping toilets clean and fresh.

So much better than a brush
I love this, the men in my house were not so good at removing things :) but with a gadget to hand they now do it

Clever replacement to a toilet brush
A very novel and clever idea to replace the toilet brush, the Loogun does what it claims to do with no fuss and no mess. Fun to use and no hassle.

Loogun, a must have
From the first use for my husband and I, we literally fell in love with this wonderful tool. With every use I'm impressed all-over with the Loogun. Gone are the days of a disgusting toilet brush. In my opinion it is a must have for every household. So easy to use, a definite recommendation not only for hygiene but also for effective cleaning every time. I cant imagine our life without a Loogun ever again.

Great Hygienic Solution
The loogun is such a great improvement over daily use of a toilet brush, I was pleasantly surprised at how effective it is. It is especially handy for our teenage children who are much better at keeping their bathroom in a presentable condition using the loogun. The loogun doesn't completely eliminate the need for a toilet brush, but we find we need it once or twice a week now rather than everyday.

Great addition to the bathroom
The Loogun is a brilliant solution to cleaning. It's eco friendly as you can throw away bleach and harsh chemicals. The power of the Loogun with just water keeps everything clean

The future of toilet cleaning
I have always thought that cleaning the toilet with a brush was unhygienic. The design of a brush means that yes it can scrub but it can also become stuck. The Loogun has now banished the brush. Not only is it modern looking and easy to use but it cleans even the toughest marks above and below the water. It's a great product and one that I cannot recommend enough.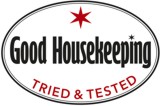 "When our Good Housekeeping Institute testers tried the Loogun, it was very easy to use. Our verdict? A great hygienic alternative to the standard toilet brush."
Verity Mann, Good Houskeeping
"Why has nobody thought of this before?? Toilet brushes are vile. Think about it, we live in the 21st Century and yet the only clear solution we can think of when it comes to cleaning our toilets is a bacteria-coated brush which then rests in a puddle of dirty water."
Thomas Tamblyn, Huffington Post
"Loogun makes toilet cleaning less crappy. It's like a big dental WaterPik for your toilet that can blast detritus from your bowl, even below water."
Steve Dent, Engadget
"A Toilet Brush Alternative That Won't Make You Gag. The toilet brush is easily the most disgusting thing in your home. Think about it: You put the brush IN your dirty toilet, and then the dirty brush goes back in the holder where the grossness can fester until the next time you use it."
Kim Fusaro, Glamour.com
"Toilet Brushes Are Gross. Can This Water Gun Make Them Obsolete? The plastic toilet brush is a necessary evil that most of us begrudgingly purchase and prefer not to think about."
Kristin Hohenadel, Slate.com
"The Toilet Brush Replacement That's Less Icky and More Fun. The key is that there aren't bristles, so it doesn't become laden with bacteria. Instead, the brush is replaced with an intense water jet."
Simon Brew, Mental Floss
"The Dyson of loo brushes"
George Macdonald, Retail Week
"It's one of those tiresome chores - getting out the loo brush and scrubbing the toilet bowl."
Daily Mail
"Stash this electronic brush by the toilet, and cleaning the loo will be as easy as pressing a button."
Chicago Tribune
"It shoots an intense stream of water into the toilet bowl cleaning off any and all hangabouts both above and below the waterline without actually touching the surface of the crapper."
TJ Dietsch, Geek
"With most Brits owning the necessary evil that is a toilet brush it's not surprising that almost a quarter say it is the most unhygienic thing in their home."
Kelly-Ann Mills, Mirror
"This 21st-century toilet brush spits out a powerful jet of water, making the entire process less gross."
Metro
"Revoltingly, 14 percent of Londoners have caught a child playing with a toilet brush."
Clearly Magazine
12 month warranty & 30 day returns
We've shipped Looguns to 52 countries — If you don't love yours, we'll take it back and give you a full refund